Gear up to work on Facebook Privacy Settings

So much has been said and written about privacy issues Facebook, the most popular social networking website has been facing these days.

Since your personal and professional information can be at stake with this, it is time to work seriously on privacy setting of your Facebook account.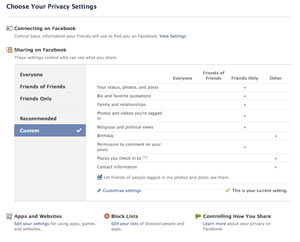 It is really important to spend some time in knowing about the privacy settings in detail. This will help you assure 100 percent safety when operating the site. There are many choices available in this regard.

When working on Facebook, just visit to your Account/Privacy Settings. This will let you reach a main screen. The screen will display you a grid.

This may be really confusing if have not been using it regularly. Observe carefully and you will come to know about options for 4 primary categories of contacts.

These include the following:

* Everyone
* Friends of Friends
* Friends Only
* Other

You would find axis for varied types of content. This includes your personal information such as your birthday, photos, status updates, etc. It is not recommended to upload information on your birthday due to privacy issues involved in it.

Facebook comes attached its own suggested settings for privacy grid. You may even build your own personalized and customized settings to ensure additional privacy on the social networking site. The best thing to do is to choose the latter path. You will come across 3 basic groups of items.

These are as listed below:

* Things you share with others
* Things that others share with you
* Contact info

There many landmines of privacy on Facebook. You must focus on sharing things only with those known personally to you or your friends.

In case, you want to share information about your websites and posts, you can do it will all or those you want to share with. In case, you have decided to use places, try using an entry at the bottom of the list.

This entry will ask:

"Include me in 'People Here how'. This is something that you would be using for privacy of your information once you check in.

This will allow people know that you are living at a specific location once they visit you on your Facebook page. This information will also be available when they do a search for people close to your location.

One of the most complex ones of all is the share grouping. You should know whether or not you really want to be tagged in pictures that your friends post of you on Facebook.

The decision is entirely yours. You should not get in to something like this if you are hunting for a job. This will only make everyone to see wall posts. This includes even those who are outside your network.

There is another option which says the following:

"Friends can check me into Places"

This is something you should disable. Enabling this option would only allow your friend to check you in anywhere. The key to successful Facebook interaction is to know about using privacy settings. Follow the rules stated above to benefit.
Similar Articles:
Tracking Profile Visitors to MySpace: Some Tips
Having Hard Time using Twitter? Some useful Tips for Beginners
Facebook: Useful Tips to Develop a Thriving Page
Social Networks- Forum for social and business activities
Gear up to work on Facebook Privacy Settings