Xanga community

Xanga is a social networking site that hosts blogs, photoblogs and profiles. Today, it's ranked as the 2450th most visited site on the Internet, and it has estimated 40 million users. There are thousands of posts updated every day, with only a few minutes of inter-space between them.

It all began back in 1998, when the site started out with sharing book and music reviews. It was founded by Marc Ginsburg, John Hiller and Dan Huddle in New York. The features of this site are weblog, photoblog, videoblog, audioblog, Pulse and profile.

Weblog was first added to the site on November 5, 2000. The option of adding comments on blogs was added soon after, on December 8, 2000, along with eProps.

Eprops is an option on Xanga, something like 'Likes' on Facebook, which can be used for expressing users opinion about an another users entry. Kevin Lu of Edison holds the world record for most props on a post.

The main purpose of Xanga is users are able to subscribe on other Xangas and by that staying informed about Xangas they're subscribed on, without manually visiting their sites.

In the beginning, Xanga allowed members to subscribe to other sites anonymously, but that option 'Sites I Read' was terminated in 2003, due to some users having trouble with anonymous subscriptions.

In the beginning , photo uploading was available only to premium users, until September 26, 2005 when all members were given 1 byte for free photo storage.

The photoblog option itself was released on April 6, 2006 and the option to comment on those photos shortly after, on April 28, 2006.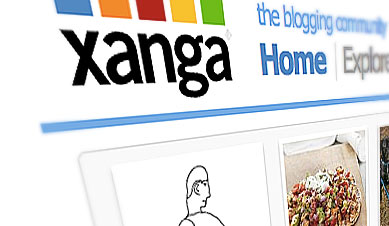 Videoblogs were launched in August 9, 2006 with a video starring a dog Gromit, owned by a Xanga employee Chris Choi, followed by audioblogs launched on September 29, 2006 after a month of beta testing.

The latest application launched in 2007 by Xanga is Pulse, a carefree miniblog which can be uploaded by cell phone.

Is it complicated to use? Basically, it works by same principles as other popular social networking sites.

It has a nice and simple design, and it's very easy to use, especially if used by people with experience in social networking.

Users can also edit and set up their own layouts and themes for their site. There's also an option to use Xanga on your mobile phone if you register the number on the website.

Using and registering to Xanga is free, but there is also a premium plus account that costs $7 per month and comes with unlimited storage space.

Registering works pretty much the same as on any other social networking site on the Internet – you must fill the name, date of birth etc.

In the next step you must choose your theme and create a welcome message. Once you are logged in for the first time, you are offered the option to search for your friends , but it's not mandatory.

Xanga's front page consists mostly of advertisement and Top Blogs – a list of most visited and successful blogs which is updated every day.

To get to the Top Blog list, you must have the largest number of comments and views of all the posts published that day in the whole world.

Therefore, your blog being posted on the Top Blog list is a very honorable thing, considering how many users there are on Xanga. There is also a list of most recent blogs, featured question asked and answered by users and Xanga news, reporting all the new happenings from the sites technical point of view.

A significant feature of Xanga is also groups. Groups are divided into categories like Arts & Humanities, Entertainment, Science and Nature, Religion & Beliefs etc.

These categories are also divided into subcategories, for example Entertainment is divided to Music, Humor, Movies… If you click on any of these subcategories, you will be showed a list of most popular groups from that topic.

For instance, in the category Music, the most popular groups are: music on world off (10970 members), Girls who love Guys who play Guitar (5966 members), music ---IT'S MY THERAPY (15930 members) and many more.

In conclusion, if you are creative and you love to write, take photos or make videos, this is a perfect site for you to share your creative side with the world.

It's a great way to connect with friends and also make new ones, based on your similar interest and liking for each others work.

If you have something to say to the world, or you would like to write a journal online there's no better place than this. You will be sharing space with tolerant and accepting people from whom you can learn plenty from.

Similar Articles:
Facebook profile: an invasion of privacy?

The Dangers of Social Networking

How do social networks make money?

Online Social networking, Problems and solutions

Tracking Profile Visitors to MySpace: Some Tips

Having Hard Time using Twitter? Some useful Tips for Beginners